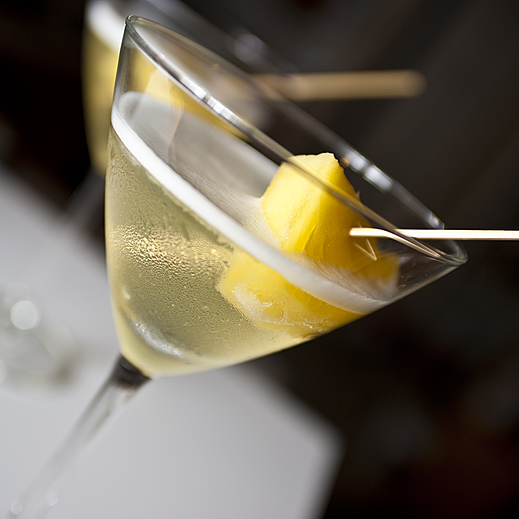 OK...I saw this on a
site
and had to share. Sounds soooo yumm yumm, I think I will try and make the effort. Any volunteers want to join me?
One of my favorite restaurants in Hawaii was Roy's Hawaiian Fusion Cuisine. Although there are Roy's restaurants all over the world, their fresh pineapple infused martini will always embody Hawaii in my mind. Roy's signature drink can be seen infusing in huge glass jars all around their outdoor bar and a fresh batch is made every couple of days in the summer. A mixture of vanilla vodka and coconut rum infused with fresh pineapple slices, and served with a slice of marinated pineapple, this drink is smooth and creamy with a thick layer of sweet foam on top. Start a batch of these today and enjoy them with friends next weekend for an end of summer luau!
Hawaiian Martinis
makes 2500 ml, prep 10 minutes, allow to infuse about 1 week
•1500 ml (2 750 ml bottles) vodka
•500 ml vanilla vodka
•500 ml coconut rum (like Malibu)
•2 fresh pineapples, cut into 1 inch wedges
1.In a large (6 quart) container with a spigot-such as a lemonade, ice tea, or a punch dispenser-layer pineapple.
2.Pour alcohol over pineapple making sure to completely cover the pineapple.
3.Allow to infuse at least a week, will stay good much longer as long as the pineapple slices remain submerged.
4.To serve (makes 2 drinks), measure out 4-6 oz liquid. Add along with ice to a martini shaker and shake vigorously.
5.Strain into two martini glasses, garnish with a wedge of marinated pineapple.
This recipe is different from other recipes on the web but is straight from the bartenders at the original Roy's in Hawaii. Their mix is huge though: 2 bottles of vanilla vodka, 2 bottles of coconut rum, and 6 bottles of regular vodka. Feel free to do the math if you want to make an even smaller batch.
Or.....somone want to make this for me??